ROUND TABLE NETWORKING EVENT
Bank of Ireland, Digital Hub,
Montrose, Stillorgan Road, Dublin 4
Wednesday 1st May 2019
5.45pm – 8.00pm
Do You Want To Network with Businesses That Matter?
WhatsWhat.ie are delighted to host our new Monthly Round Table Networking Evenings. Meet and connect with a diverse cross-section of businesses. We believe our roundtable facilitated networking evenings are a unique opportunity to network in a structured environment.  We encourage attendees to make contacts who will prove to be beneficial to them in the future. Remember, people buy from people, so being able to network is vital for sales and business development skill.
How do Round Table Networking evenings work?
Registration 5.45pm
Introduction to the event.
You will be seated with 10 businesses at a round table and each person will have 3 minutes to introduce their business in the allotted time of 30 minutes. Then we will break for 15 minutes to exchange tables and general chat.  We then start again and repeat the process twice.
This will give everyone an opportunity to interact with  the majority of businesses involved on the night. The primary reason for this type of roundtable networking is to encourage engagement in a facilitated manner. No standing around or too shy to interact.
The evening will close with a Q&A section from the tables.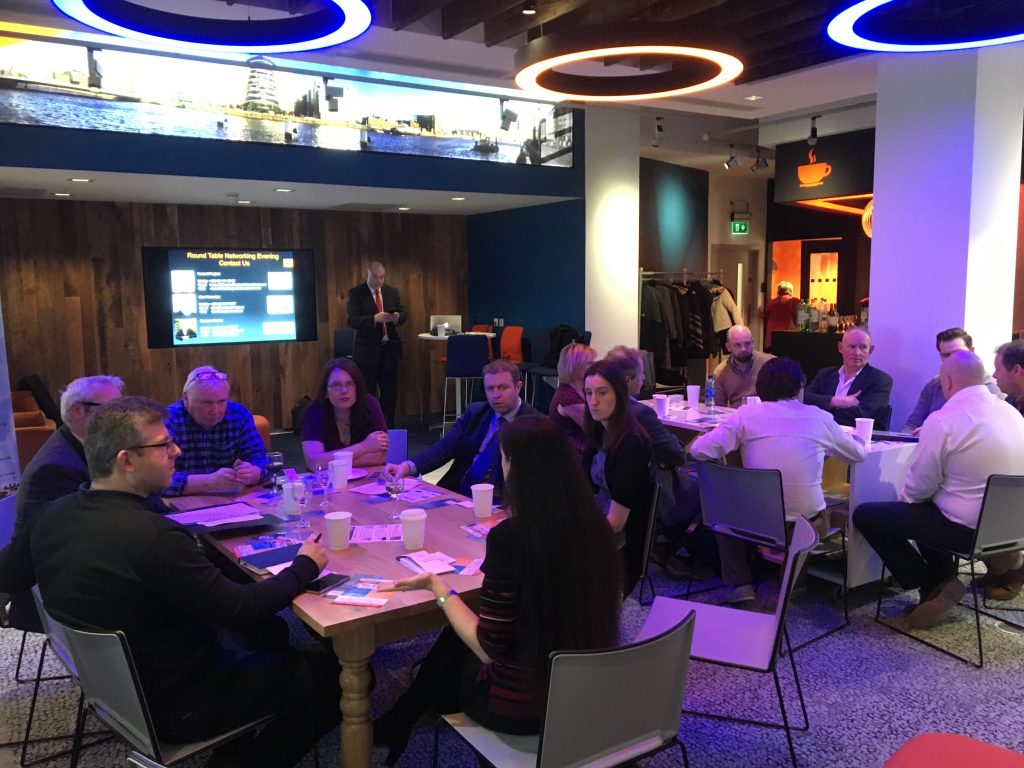 Round Table Networking Evening
Bank of Ireland, Montrose,
We had a great turnout for our last Round Table Networking Evening with a diverse cross-section of business including Accountants, Tech Companies, Digital Marketing,  Human Resources, Financial Planners, Management Payroll, Cyber Security, Printers and Real Estate Agents.
Thanks to Alan Hennessy from Kompass Media for Facilitating the meeting.
Here are a few photos of the evening.
Our next Networking Evening will take place on the 1st of May 2019.
Testimonial
Johann Callaghan Therapeutic Healing.
"It was great meeting you all yesterday and helping each other work on your business.
I had a fantastic time and intend to come along next month again."
Networking Venue:
Bank of Ireland
Digital Hub,
Montrose,
Stillorgan Road,
(On the Site of the Old Montrose Hotel)
Dublin.
Tel:+353 1 269 6677
Bank of Ireland Montrose now offers a high-tech workbench area and events space for personal customers and members of the public. You don't even need to be a Bank of Ireland customer.
Here you can make use of our digitally-enabled venue to hold meetings and to collaborate with your peers. In this modern and comfortable space you can enjoy tea and coffee – and the use of free WiFi – as you discuss your ideas.
Our new events space is open to all to support local enterprise and community activity. Host your own event or come along to one of ours.
Facilities
Full use of our boardroom / AV facilities / digital screens
Digital screen branding
Community & local interest events
Promotion through our social media channels
Catering / refreshments
Event staff to help with hosting/running the event.
Find Out More
bankofireland.com
Don't have the Bank of Ireland Banking App? Get it for your tablet or phone:
Find out more about Bank of Ireland  montrose-branch-brochure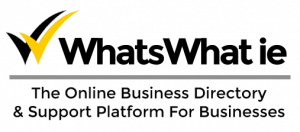 For more information on all our services
Contact Us Today
Tel: 01 2865787